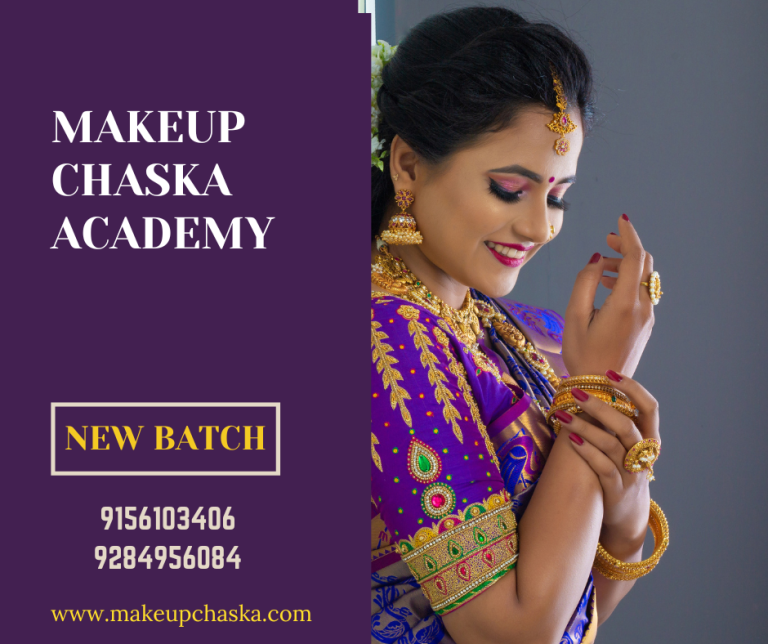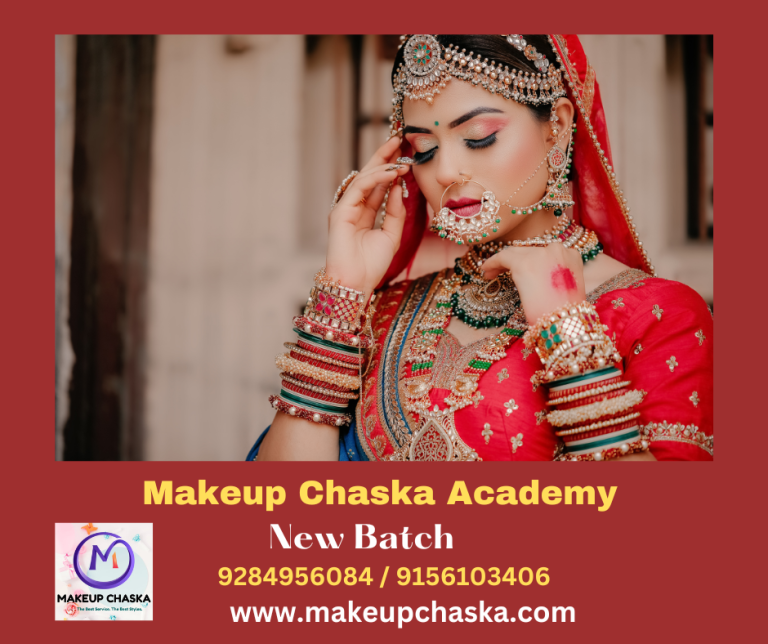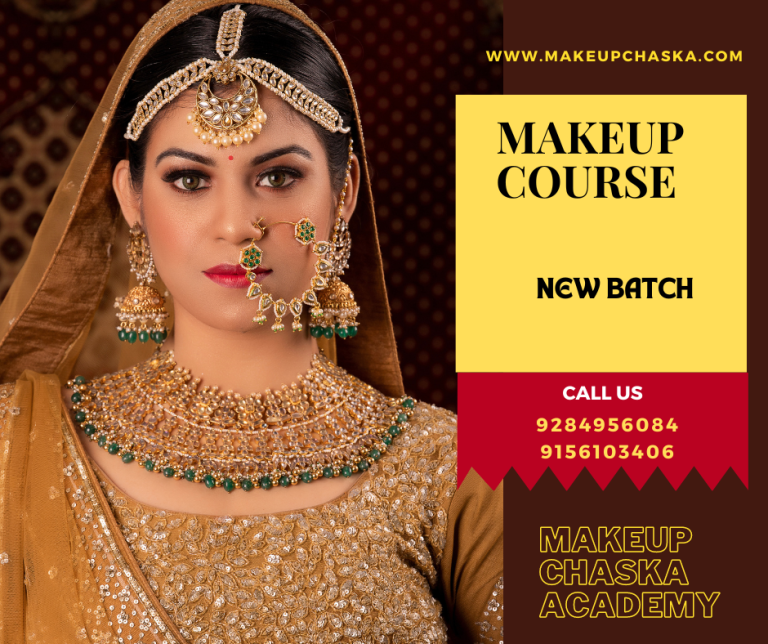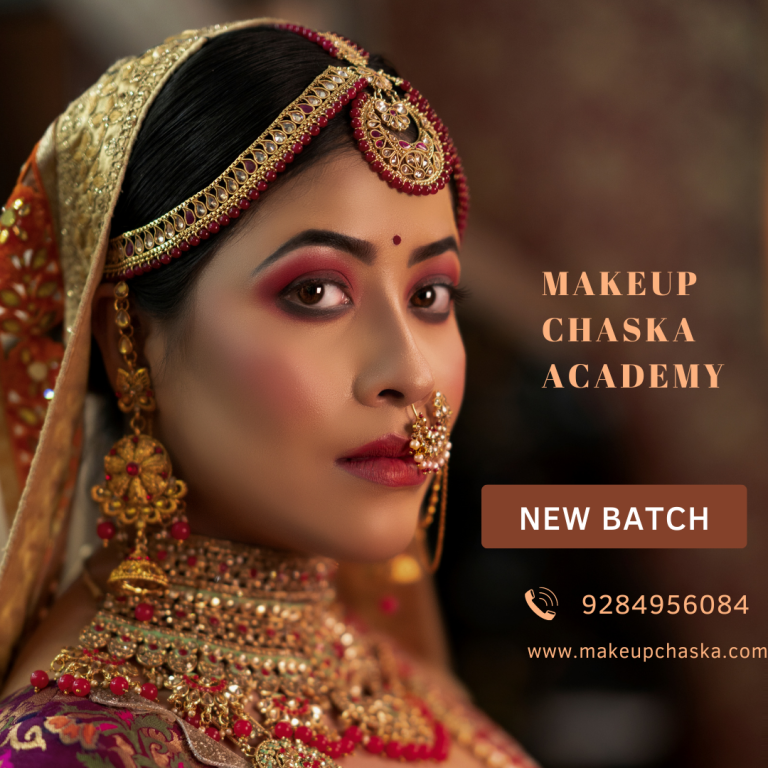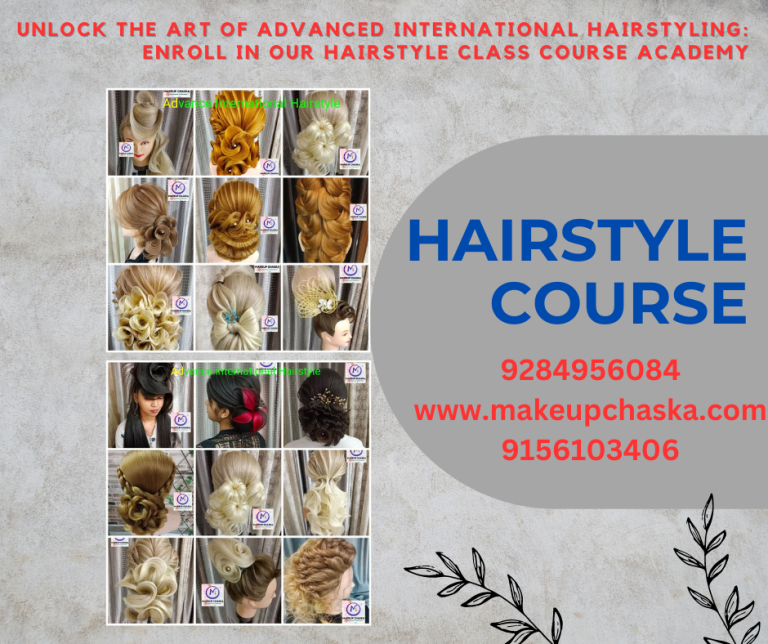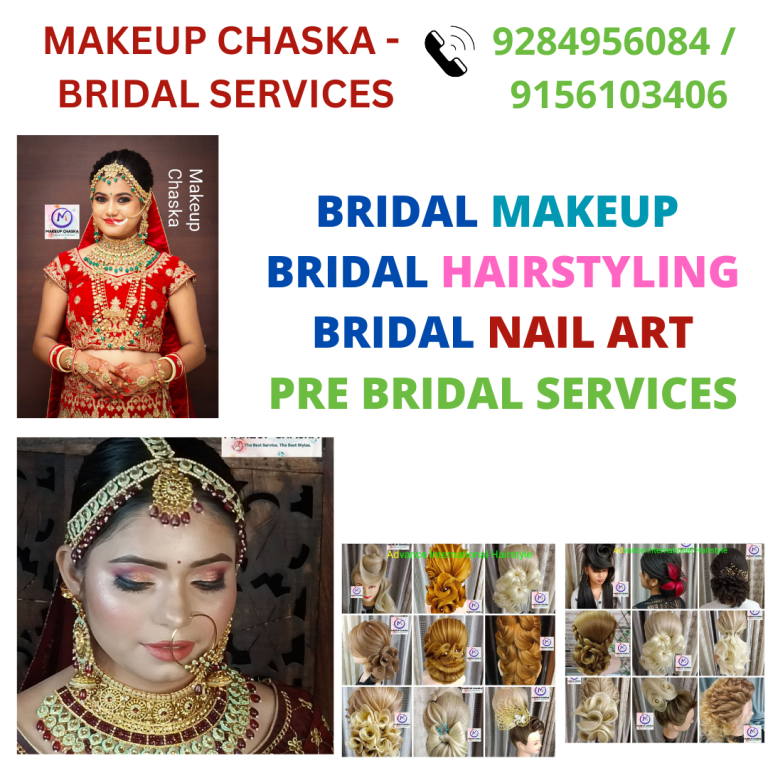 Top Professional Bridal Makeup Artist Nagpur Hairdresser Nail Salon
Top Professional Bridal Makeup Artist Nagpur Hairdresser Nail Salon
Top Professional Bridal Makeup Artist Nagpur Hairdresser Nail Salon
"Discover the Top Makeup Artist in Nagpur: Your Beauty Transformation Awaits!"
Welcome to Makeup Chaska, where beauty meets perfection in Nagpur. We take pride in being recognized as one of the top makeup artists in the city, dedicated to enhancing your natural beauty and making you look and feel your best on any occasion.
Our Makeup Services:
At Makeup Chaska, we offer a wide range of makeup services tailored to your unique needs:
Bridal Makeup: Our bridal makeup services are designed to make your special day even more magical. We work closely with brides to create a stunning and long-lasting bridal look that reflects your style and personality.
Party Makeup: Whether it's a birthday party, anniversary celebration, or any special event, our party makeup will ensure you shine and stand out from the crowd.
Makeup for Photoshoots: If you're a model or planning a professional photoshoot, our makeup artists will collaborate with photographers to create the perfect look for your shoot.
Makeup Consultations: Not sure which makeup style suits you best? We offer personalized makeup consultations to understand your preferences and provide expert advice.
Why Choose MakeupChaska?
Experienced Artists: Our team of skilled makeup artists has years of experience in the industry, ensuring you receive the best results.
Quality Products: We use top-quality makeup products that are skin-friendly and long-lasting.
Customized Looks: Every client is unique, and we tailor our makeup services to match your individual style and vision.
Attention to Detail: We pay meticulous attention to every detail, ensuring your makeup looks flawless from every angle.
Client Satisfaction: Our priority is your satisfaction. We're not satisfied until you're delighted with your look.
Book Your Appointment:
Ready to experience the magic of MakeupChaska? Book your appointment today and let us transform you into a work of art. Your beauty journey begins here.
Makeup Chaska the leading Makeup Artist in Nagpur which provide Complete Course in Makeup Hairstyle and Nail Art.
BLOCK NO 338,  OPPOSITE  KAMBAR DARBAR, BACKSIDE OF UNION BANK, Jaripatka, Nagpur, Maharashtra 440014, India
Top Professional Bridal Makeup Artist Nagpur Hairdresser Nail Salon
Welcome to Nagpur's Premier Beauty Destination!
At our salon, we pride ourselves on being your one-stop beauty haven, where your dreams of looking stunning on your special day come true. We offer a range of professional beauty services that include Bridal Makeup Artistry, Expert Hairdressing, and Nail Salon excellence.
Professional Bridal Makeup Artist:
Your wedding day is one of the most memorable days of your life, and our professional bridal makeup artist understands the importance of looking your best. We specialize in crafting exquisite bridal looks that not only enhance your natural beauty but also reflect your unique style. From traditional to contemporary, our makeup artists are skilled in creating a wide array of bridal looks to suit your preferences.
Expert Hairdressing:
Your hair is your crowning glory, and we take pride in making it shine. Our expert hairdressers are trained to transform your hair into a work of art. Whether it's a stylish haircut, a glamorous updo, or a trendy hairstyle for a special event, we have you covered. We use the latest techniques and premium products to ensure your hair looks its best, no matter the occasion.
Nail Salon Excellence:
Your hands and feet deserve some pampering too! Our nail salon is a sanctuary for nail art enthusiasts. We offer a wide range of nail services, from classic manicures and pedicures to creative nail art designs that will make your nails stand out. Our skilled nail technicians use high-quality products to give you the perfect manicure and pedicure experience.
Why Choose Us:
Experienced Professionals: Our team of experienced makeup artists, hairdressers, and nail technicians are dedicated to delivering exceptional results.
Personalized Services: We understand that each client is unique, and we tailor our services to meet your specific needs and preferences.
Premium Products: We use top-notch beauty products that are gentle on your skin, hair, and nails, ensuring lasting results.
Client Satisfaction: Your satisfaction is our top priority. We are committed to making you look and feel your absolute best.
Whether you're a bride-to-be, someone in need of a hair makeover, or simply looking to treat yourself to a relaxing nail session, our salon is the perfect destination. Book an appointment with us today and let us work our magic to enhance your beauty and boost your confidence. We can't wait to make you look and feel fabulous!
Top Professional Bridal Makeup Artist Nagpur Hairdresser Nail Salon
Makeup Chaska Academy has been providing Courses in Nagpur in areas abhyankar nagar adam ajni akashwani chowk akar nagar ambajhari amgaon amravati road anant nagar ashok chowk babul ban badil kheda bagadganj baji prabhu nagar bazargaon besa bezonbagh bhagwan nagar bhiwapur bhole baba nagar borgaon road budhwari butibori butibori midc byramji town central avenue road chakradhar nagar chandrabhaga nagar chhaoni chhapru nagar chhota tajbag chikhli layout civil lines clark town coal estate crpf campus dahegaon joshi datewadi dattatray nagar dattawadi deonagar dhanla dhantoli dighori dighori naka dipti signal dongargaon donger mauda dr ambedkar marg fawara chowk fegad friends colony gaddi godam gajanan nagar gandhi putla chowk gandhibagh ganji peth ganesh peth ghat road giri peth gittikhadan gokul peth gokulpeth golibar chowk gorepeth hansapuri hazari pahad road hingna road hitwada hiwari nagar hudkeshwar road imambada indira devi town indraprastha nagar ingole nagar ishwar nagar itwwari road itwari jafarnagar jaitala jaitala road jalal kheda jamgaon bk jaripatka jayprakash nagar jiwnapur juni mangalwari kadbi chowk kalameshwar kamal chowk kamptee kamthi city karve nagar kasturchand park katol katol road khamla khapri kingsway koradi kotwal nagar kuhi lakad ganj laxminagar lodhipura lohari sawanga lokseva nagar mahal mahatma phule market mahuli mandhal manewada manish nagar mansar maskasath mauda medical square mendhala mhalgi nagar midc kalmeshwar midc nagpur model mill mouda nagpur mount road mohan nagar nadt campus nagalwadi nagpur city nagpur gpo nagpur rural nagpur times nagpur urban nandanvan narendra nagar narkhed narkher navegaon khairi neeri campus netaji campus new itwari road niri nara road north ambazari road pachkhedi pachpaoli panchasheel nagar panchsheel square paradsinga pardi deshmukh parseoni parsodi parvati nagar patansaongi pension nagar pipla prashant nagar queta colony raje raghuji nagar ram nagar ramdaspeth ramtek rana pratap nagar rangari ravi nagar reshim bagh ring road nagpur sadar samartha nagar saoner savner sawarkar nagar seminary hills shanchara shankar nagar shatabdi chowk shraddhanand peth sillewara project sindhi umri sitabuldi somalwada surendra nagar suyog nagar swavlambi nagar taj bagh takalghat takli taklibhansali tandapeth tarsa neemkheda road taya tope nagar telephone chowk teka naka tekadi road thadipauni thaturwada tinkheda tiranga chowk uday nagar road ujjwal nagar umred road umrer road university campus nagpur untkhana uppalwadi vakilpeth vayusena nagar venkatesh nagar vishwakarma nagar vivekanand nagar vrce campus wadi wagh wakar road wakodi wanjari nagar wardha road wardhaman nagar wathoda layout welekar nagar west high court road yeni coni yerla zingabai takli colony pincode direction
Professional makeup artist as career its the best trending careers for womens who want to start earning as there own business like never before its crazy deal for those who are keen interested in makeup hairstyles nail art and salon services and for all those who from childhood pay these for self and had knwledge of the basics ie self makeup and weekly or monthly  facials of self and house ladies seen that how to clean and get faster ready for any functions wedding event and now are interested in up skill there knowledge and can spend to get these techniques for there rewarding careers in beauty industry.
Top Professional Bridal Makeup Artist Nagpur Hairdresser Nail Salon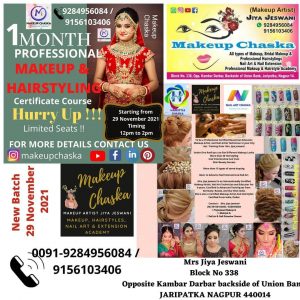 "Top 10 Makeup Artist in Nagpur":
Who are the top 10 makeup artists in Nagpur?

Our website features a curated list of the top 10 makeup artists in Nagpur, known for their exceptional skills and client satisfaction.

How were these makeup artists selected as the top 10 in Nagpur?

The selection process is based on a combination of client reviews, industry reputation, and our team's assessment of their work.

Can I book an appointment with these makeup artists directly through your website?

We provide contact information and booking details for each makeup artist listed on our website to make it convenient for you.

Are these makeup artists suitable for all occasions?

Yes, the top makeup artists listed on our website are versatile and can cater to various occasions, including weddings, parties, photoshoots, and more.

Do these makeup artists use high-quality products?

Yes, the makeup artists featured on our list prioritize the use of premium and safe beauty products to ensure the best results for their clients.
"Top Professional Bridal Makeup Artist Nagpur Hairdresser Nail Salon":
What bridal makeup services do you offer?

Our bridal makeup services are comprehensive and can be tailored to your preferences. We specialize in creating stunning bridal looks, including traditional, contemporary, and themed styles.

Do you offer hairdressing services for brides as well?

Yes, we provide expert hairdressing services that complement your bridal makeup, ensuring a complete and flawless look for your big day.

Can I book a combined package for bridal makeup, hairdressing, and nail services?

Absolutely! We offer customizable packages that include bridal makeup, hairdressing, and nail services to make your bridal preparations convenient and stress-free.

What brands of makeup products and haircare products do you use?

We use premium and reputable brands for makeup and haircare products, ensuring long-lasting and high-quality results.

How can I book an appointment for bridal makeup or other services at your salon?

Booking an appointment is easy. You can contact us through the provided contact information on our website or use our online booking system for your convenience.

Do you offer consultations to discuss bridal looks in detail?

Yes, we offer personalized consultations to understand your vision and preferences, ensuring that we create the perfect bridal look tailored to you.