Bridal Makeup Artist in Raipur Class Course Academy
Bridal Makeup Artist in Raipur Class Course Academy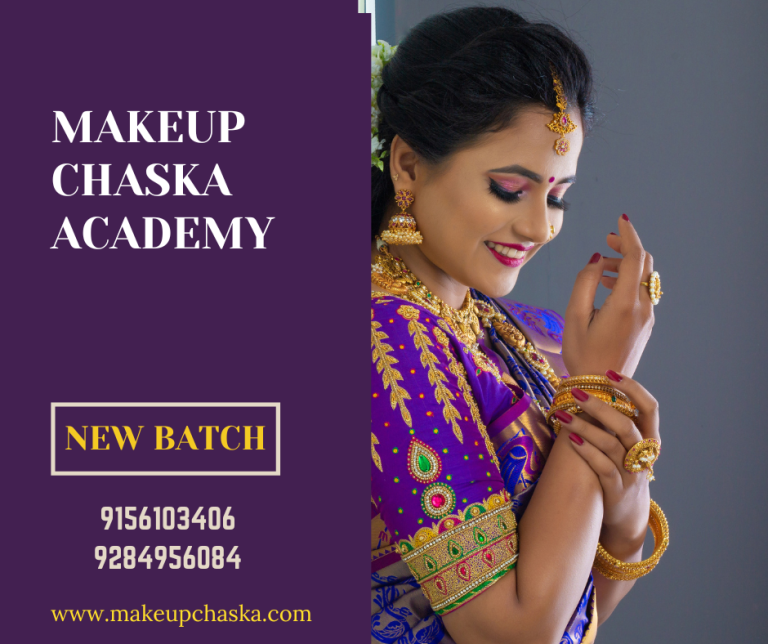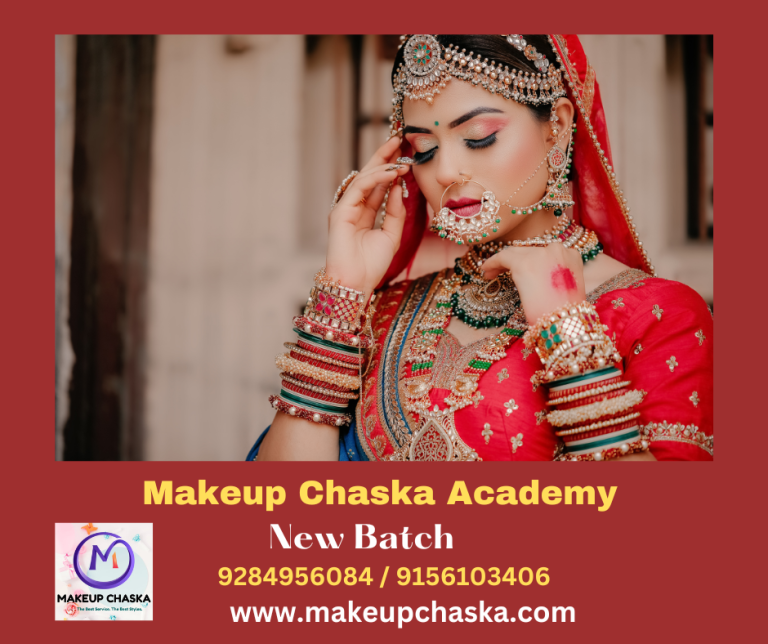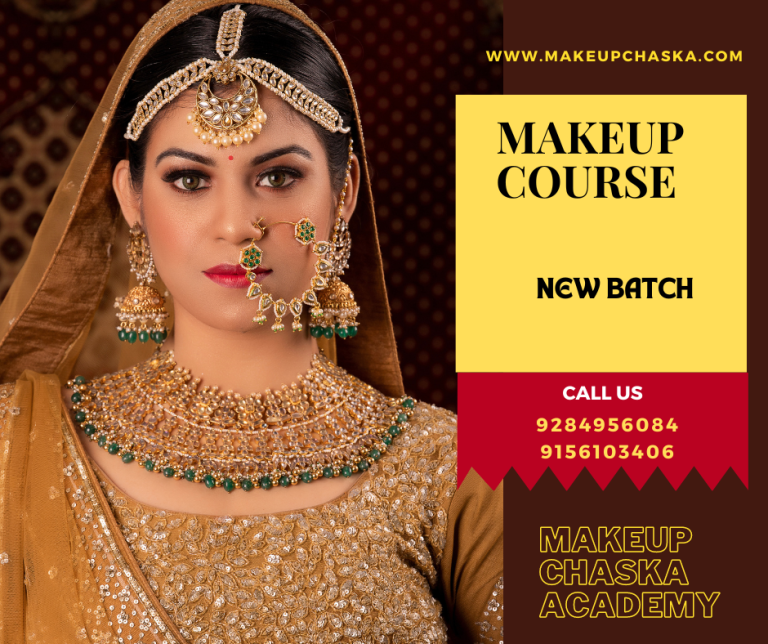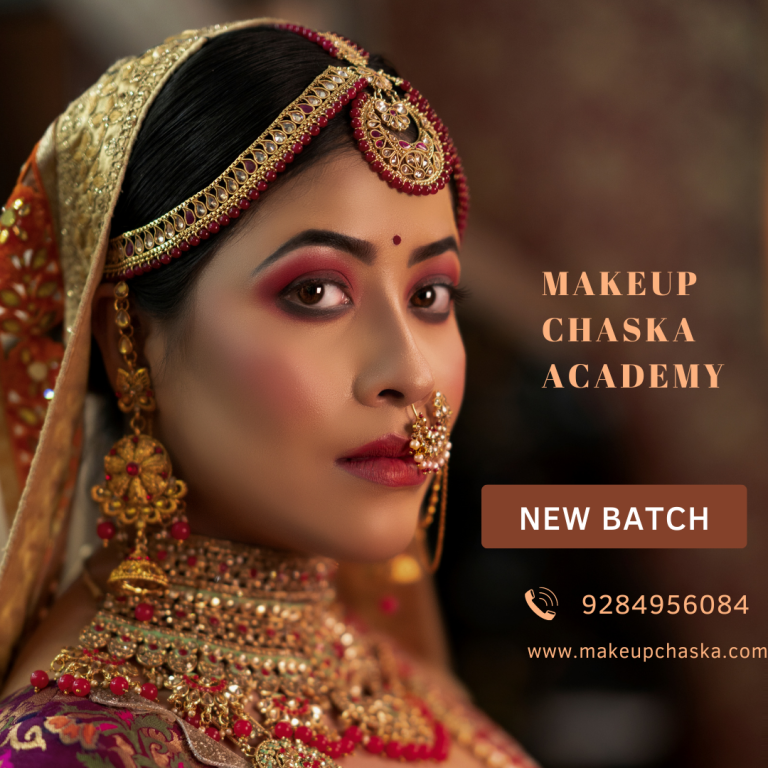 Bridal Makeup Artist in Raipur Class Course Academy
Bridal Makeup Artist in Raipur Class Course Academy
Bridal Makeup Artist in Raipur Class Course Academy
1 PROFESSIONAL MAKEUP & HAIRSTYLES COURSE
PROFESSIONAL MAKEUP COURSE
COMPLETE PRODUCT KNOWLEDGE
BRUSH KNOWLEDGE
HIGHLIGHTING & SHADDING TECHNIQUES
DIFFERENT TYPES OF EYE MAKEUP
SIMPLE MAKEUP LOOK ( SELF GROOMING )
MARWADI BRIDAL LOOK
SOUTH INDIAN LOOK
CHRISTIAN BRIAL LOOK
MAHARASTRIAN BRIDAL LOOK
MUSLIM BRIDAL LOOK
PUNJABI BRIDAL LOOK
RETRO LOOK
HALDI LOOK
PARTY LOOK ( COCKTAIL LOOK )
CORRECT KNOWLEDGE OF BASE
HD MAKEUP
3D MAKEUP
PROSTHETIC MAKEUP
AIRBRUSH MAKEUP
ADVANCE HAIRSTYLING COURSE
DIFFERENT MACHINE KNOWLEDGE
BLOW DRY TECHNIQUES
CRIMPING TECHNIQUES
PULLING TECHNIQUES
TWISTING TECHNIQUES
DIFFERENT TYPES OF WAVES TECHNIQUES
MESSY BUN
BRIDAL BUN
OPEN HAIRSTYLES
TRADITIONAL HAIRSTYLES
TRADITIONAL BUN
DIFFERENT TYPES OF BRAIDS
MORE THEN 40 HAIRSTYLES
MAKEUP COURSE
NAIL ART & EXTENSION COURSE SYLLABUS
2 FULL BEAUTICIAN COURSE ( MAKEUP + HAIRSTYLE + NAIL ART ) COURSE
BASIC COURSE
1. THREDING
2. WAXING
3. DIFFRENT TYPES OF FACIAL – D-TEN, THERMOHERB, WHITENING
4. MANICURE & PADICURE – 3 TYPES
5. BLEACH
6. BODY POLISING
7. HEAD MASSAGE
MAKEUP & HAIRSTYLE COURSE
1. SIMPLE LOOK
2. BRIDAL LOOK
3.PRODUCT KNOWLEDGE
4. RECEPTION LOOK
5. 20 TYPES OF HAIRSTYLES
6. MACHINE KNOWLEDGE
HAIR CHEMICAL COURSE
1. HAIRSPA
2. HAIRCUTS
3. HAIRTEXTURE- HAIR STRAIGHTENING, REBONDING, KERATIN, SMOOTHENING , GLOBAL COLOR, HIGHLIGHT
4. HAIR SETTINGS
5. HAIR TREATMENT
SKIN TREATMENTS
NAIL ART & NAIL EXTENSION COURSE
2 TYPES OF EXTENSION – TEMPORARY, GEL EXTENSION
15 TYPES OF NAIL ART
1 TYPE OF MANICURE & PADICURE
MAKEUP COURSE
NAIL ART & EXTENSION COURSE SYLLABUS
3 NAIL ART & EXTENSION COURSE
ADVANCE NAIL ART & NAIL EXTENSION COURSE
1. 3 TYPES OF EXTENSION – TEMPORARY, GEL, ACRYLIC EXTENSION
2. MORE THEN 30 NAIL ARTS
3. DRILLING MACHINE KNOWLEDGE
4. 2 – 3 TYPES OF MANICURE & PADICURE
BASIC NAIL ART & NAIL EXTENSION COURSE
2 TYPES OF EXTENSION – TEMPORARY, GEL EXTENSION
15 TYPES OF NAIL ART
1 TYPE OF MANICURE & PADICURE
MAKEUP COURSE
4 HAIRSTYLES COURSE
ADVANCE HAIRSTYLING COURSE
DIFFERENT MACHINE KNOWLEDGE
BLOW DRY TECHNIQUES
CRIMPING TECHNIQUES
PULLING TECHNIQUES
TWISTING TECHNIQUES
DIFFERENT TYPES OF WAVES TECHNIQUES
MESSY BUN
BRIDAL BUN
OPEN HAIRSTYLES
TRADITIONAL HAIRSTYLES
TRADITIONAL BUN
DIFFERENT TYPES OF BRAIDS
MORE THEN 40 HAIRSTYLES
MAKEUP COURSE
PRESS ON NAILS COURSE SYLLABUS
5 PRESS ON NAILS COURSE
PRESS ON NAIL COURSE
1. ORDER ACCEPTING
2. PREPARATION OF NAILS
3. 5 TYPES OF NAIL ART
4. PACKING OF NAILS
5. DELIVERY OF NAILS
Bridal Makeup Artist in Raipur Class Course Academy
Makeup Chaska explore Makeup Artist for all types of looks including Maharashtrian Marathi Makeup look, Gujarati Makeup look, Bengali Makeup look, South Indian Makeup look, Indo Western Makeup look, Cocktail Makeup look, Punjabi Makeup look, Marwadi Makeup look, Muslim Makeup look, Bridal Makeup look, Christian Makeup Look.
MRs. JIYA JESWANI
Founder OwnerAt MAKEUP CHASKA, our goal is to give you a Perfect Look. We make complimenting, contemporary searches for our Clients, spend significant time in flexible styles for regular daily existence. Whether you want something fashion forward, timeless, or just for a special event, MAKEUP CHASKA has your answer Best Makeup Course. We accept that you are your best valuable asset. This is why we offer a full service experience including Makeup Services, Hair styling, Nail treatments.
MAKEUP CHASKA Founded by Mrs. Jiya Jeswani, MAKEUP CHASKA has been serving the metro area since 2014 provides Females services to make everyone look and feel they're most beautiful. Our staff is here to help your vision and open your inward sparkle. We exclusively use MAKEUP CHASKA styling products.
MAKEUP CHASKA, Welcomes you to Join Professional Makeup & Hairstyle & Nail Art and Nail Extension Courses. Join Best Academy Courses for Makeup, hairstyle & Nail Art with its Extension.
Makeup Chaska Best Makeup Course for All types of Makeup, bridal Makeup & Professional Hairstyling. Trending Nail Art & Nail Extension. Leading Professional Makeup & Hairstyle & Nail Art Academy. Contact for New Batch starting contact and build your rewarding career in the beauty industry.
Trending Top 10  Makeup Course Artist Academy  We've been featured in numerous magazines, and Looking for Looks. Our stylists have appeared on demand and as per the needs of clients. Our nail and makeup artists have the Vision to work with a number of Hollywood production companies for both TV and film. You're a beautiful & excellent  canvas, and we're all about helping your inner beauty emerge. We create selected &  exclusive looks inspired by your personal style, event needs, and taste. We as a  team uses their eye for detail and high-quality salon products to deliver a range of services Best Makeup Artist Course Academy Classes.